Portable Pedal-Powered Boat, which we call Packboat, was chosen by ALCOA as the Innovation Project of the Decade.
"The Portable Pedal-Powered Boat came from an innovative projectual concept, grounded in an objective manner, combining operational, formal elegance and consistent with the principles of assembly, transport and storage." (Jury Comment)

In celebration of 10 years of ALCOA Award for Innovation in Aluminum, Alcoa introduced in this issue the Innovation Award of the Decade. This award included the author of the most innovative design, chosen from all the winners in the 10 editions of the contest.
Mateus Frois received the Innovation Award of the Decade at the event, held at Innova Convention Center in Sao Paulo, on May 31. As part of the award, Mateus Frois will visit the Alcoa Technical Center, located in Pennsylvania, USA, with all expenses paid by Alcoa.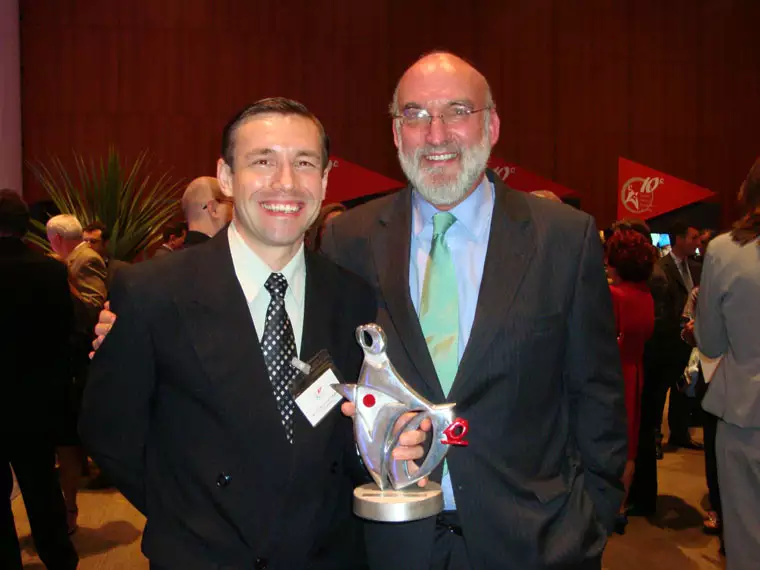 Mateus Frois and Franklin L. Feder – President of Alcoa Latin America & Caribbean.
The Award Committee of the Innovation Award of the Decade had the following members: Fernando dos Santos, Mirella Basollo Gamiero, Maria Renata Vaz, Fabiano Schneider Urso, André Colletti, Alfredo Imagawa Junior e Rodrigo Duque, all from Alcoa, and the guest Auresnede Pires Stephan, from Armando Álvares Penteado Foundation, Santa Marcelina College and ESPM.