Last weekend had a speed competition with the Bikeboats in Aalborg, Denmark, thanks to the initiative and support of Fjordcycling. The "Nordjysk Vandcykel Championship" is part of the Aalborg Sustainability Festival and was covered by the Danish TV2Nord.
Free translation of the report: Nordjysk Vandcykel Championship is part of the Aalborg Sustainability Festival, where the cyclist federation usually wields championships in driving with bicycles. But this year the people behind the test wanted something new.
"We had a water cycle champion, which was settled in Fårup Sommerland a few years ago, and it was a big success, so we would like to try again," said Mike White from the cyclist federation.
The rules for the championship are simple. You cycle a path through time and the fastest time has won. At the same time you cycle on a special water bike (referring to the Recumbent Bikeboat) that uses a propeller instead of the traditional impeller, and it makes it much faster.
"When I tried it on Mariagerfjord this spring, I was amazed, because it's a really easy bike (referring to the Recumbent Bikeboat). It almost flies over water compared to a regular water cycle", says Mike White from the Cyclist League.
Helle Mumberg from Vodskov, who tried the water bike (Bikeboat) for the first time today, agrees.- "It's much easier than you expect. If you think of the ones in Fårup Sommerland, which is very heavy in it, this is very easy to ride", says Helle Mumberg.
This is the first time the special water bike (Bikeboat) is in Aalborg, but not the last one. "We evaluate it, and then we take a decision of principle if we think it should repeat again next year," said Mike White from the Bike Association's department in Aalborg.
Picture with the winners of the competition: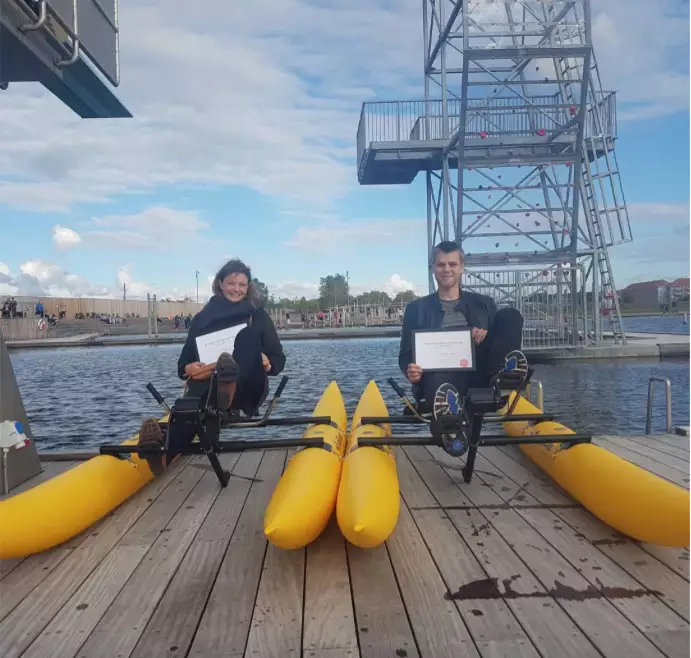 The fastest water cyclists at the Nordjysk waterbike championship. One winner was found for each class, male and female.
In the men's class: Benjamin Støttrup in time 1.58
In the female class: Jeanette Fryhstyck in time 2.02
Info: Fjordcyclyng